Admitted Student Tour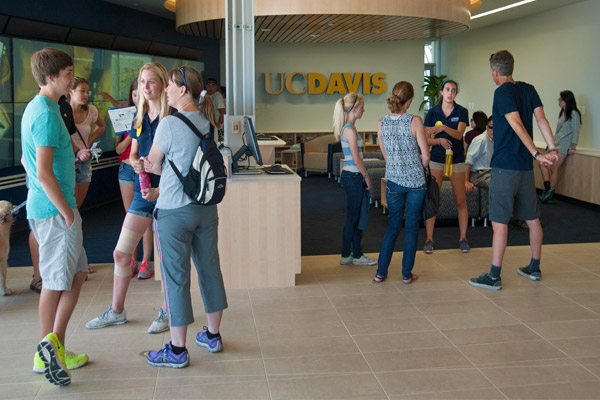 This tour is for newly admitted students and their families. If you are a prospective student or an applicant, please select the "Prospective Student/Family Walking Tours" option on the left.
Congratulations on your admission to the University of California, Davis! We are excited that you are planning to visit our campus and invite you to attend a tour and presentation especially for you, one of our newly admitted students. Your student tour guide will lead you through the central core of the UC Davis campus. Visitors will learn about academic excellence, student services, organizations, clubs, as well as research and internship opportunities at UC Davis that uniquely prepare our students for graduate school or the career field after graduation. To register for a tour, please either enter your information below or call our tour reservation line at 530-752-0539. Our e-mail address is visit@ucdavis.edu.
Guided residence hall tours will be offered all of April Monday-Friday from 11:30-12:30pm, 1-2pm, and 2:30-3:30pm and on Saturday and Sunday from 12:30-1:30pm. Beginning May housing tours will be Monday-Friday from 11:30-12:30pm and Saturday from 12:30-1:30pm. All visitors must check in outside of the Tercero Services Center before beginning a tour. Reservations are not necessary.
Please note our office will not offer tours on the following dates:
March 31, 2017
April 16th, 2017
May 29th, 2017
Campus Tours and Guided Residence Hall Tours are not available during finals week, breaks and university-observed holidays. Tours starting after June 16th will be active in the system starting in mid-May.
We look forward to your visit soon.