Prospective Student/Family Walking Tours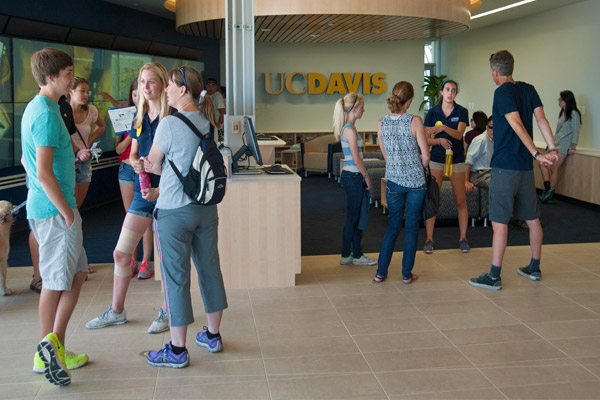 We welcome future applicants and families to join our prospective student walking tours of UC Davis. Tours begin and end at the Welcome Center. Your visit experience will begin with an Admissions presentation the first 30 minutes and conclude with a one hour walking tour of our beautiful campus. Your tour will take you through the central core of the UC Davis campus and will be student led. Visitors will learn about academic excellence, student services, organizations, clubs, as well as research and internship opportunities at UC Davis. To register for a tour, please either enter your information below or call our tour reservation line at 530-752-0539. Our e-mail address is visit@ucdavis.edu.
Please bring comfortable walking shoes and be prepared for beautiful mild weather during the spring and fall, rainy weather during winter months and temperatures between 80 to 100 degrees during summer season. Drinking water is highly encouraged during summer months. A hydration station is available at the Welcome Center.
Residence Hall Guided tours are offered Monday through Friday at Tercero Residence Halls on a rolling basis between 11:45am to 1:15pm. On Saturdays you may take a residence hall tour on a rolling basis anytime between 12:15pm and 2:15pm. Reservations are not necessary for residence hall tours.
Please note our office will not offer tours on the following dates:
- November 11, 2016 - Veterans Day
- November 24-27, 2016 - Thanksgiving Break
-December 10, 2016 through January 8, 2017 - Winter Break
-January 16, 2017 - Dr. Martin Luther King, Jr Day
-February 20, 2017 - Presidents' Day
-March 31, 2017 - Cesar Chavez Day
-May, 29, 2017 - Memorial Day
Campus Tours and Guided Residence Hall Tours are not available during finals week, breaks and university-observed holidays.
We look forward to your visit soon.