Prospective Student/Family Walking Tours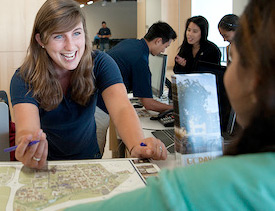 We welcome future applicants and their families to join our weekday walking tours of UC Davis. The tour begins and ends at the Welcome Center, Your visit experience will begin with an Admissions presentation the first 30 minutes and conclude with a one hour walking tour of our beautiful campus. Your tour will take you through the central core of the UC Davis campus and will be student led. Visitors will learn about academic excellence, student services, organizations, clubs, as well as research and internship opportunities at UC Davis. To register for a tour, please either enter your information below or call our tour reservation line at 530-752-8111. Our e-mail address is visit@ucdavis.edu.
Please Note: Admitted Student Tours will be available for on-line registration starting March 15th.
Please bring comfortable walking shoes and be prepared for beautiful mild weather during the spring and fall, rainy weather during winter months and temperatures between 80 to 100 degrees during summer season. Drinking water is highly encouraged during summer months.
Guided residence hall tours are available on a rolling basis from 12:00noon-1:00pm Monday-Friday and 12:30pm-1:30pm Saturday-Sunday starting at Tercero Dining Commons during academic quarters, October through the first week of June (excluding breaks and finals weeks).
Guided residence hall tours are available during the summer months (June 25th through September 15th) on a drop in basis between the hours of 9:00am to 12:00pm and between 1:00pm to 4:00pm. Summer self-guided residence hall tours meet at Segundo Residence Hall area service desk.
Mondavi Center for Performing Arts tours can be scheduled, subject to availability, by phoning (530) 754-5399 and leaving a well- articulated message including name, phone number and date & time you would like a tour. This phone number is for Mondavi Center for Performing Arts tours only.
Please note our office will not offer tours on the following dates:
-September 2, 2013
-November 11, 2013
-November 28-December 1, 2013
-December 7, 2013 through January 5, 2014
-January 20, 2014
-February 17, 2014 (Presidents Day)
-LIMITED TOURS DURING: March 18, 2014 through March 30, 2014 (Finals and spring break)
-April 5, 2014
-April 12, 2014
-April 20, 2014
-May 16, 2014
-May 26, 2014
-July 4, 2014