Tour Registration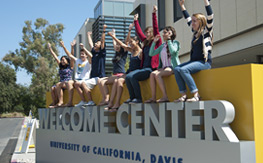 UC Davis offers a variety of campus tours, each focusing on a different aspect of our academically rich and diverse university. Tours are conducted by friendly and enthusiastic student guides.
To register for a tour, please use the "Available Tours" menu at left. Select a tour option to view a description and availability. Follow the instructions to schedule and confirm your reservation.
We look forward to meeting you soon!